Directions to Aloha Junction Bed & Breakfast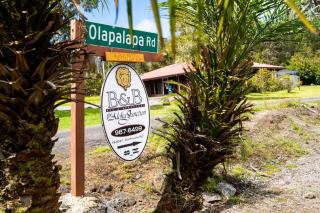 The Aloha Junction Bed and Breakfast Inn is located between mile markers 26 & 27 and just a few minutes from the entrance to Hawaii Volcano National Park. If you are looking for accommodations near Hawaii's number #1 attraction ~ the Hawaii Volcanoes National Park ~ please consider staying with us at the Aloha Junction Bed and Breakfast inn Volcano Village, Hawaii 96785.
GPS:Latitude: 19.429434, Longitude: -155.237031
Directions
Directions from Hilo International Airport (ITO)
Please call us at (808) 987-6499 as soon as possible to let us know your approximate time of arrival. If your phone doesn't connect no worries just try and come between the hours of 3 – 6 PM.
From the airport entrance road, turn LEFT at the stoplight facing the Aloha Gas station.

SUGGESTION: Pick up a few groceries or fast food in HILO or in the next town of Keaau about 10 miles further on Hwy 11 as prices will be much cheaper. See our Travel Tips for more information

Continue Hwy 11 going south about 26 miles to Volcano Village

You'll be going through the towns of KEAAU, Kurtistown & Mt. View.

As you're nearing Volcano, there will be three "exit" signs for Volcano Village
The easiest route is to take the first exit road and "Turn Right on WRIGHT Rd."
From the exit road turn LEFT at STOP sign onto the OLD VOLCANO ROAD
Drive about 1 ½ blocks through this very small town noticing several small stores, restaurants and launderette behind the Thai-Thai Restaurant.
PASS HAUNANI Road and SLOW DOWN after the Volcano Store on your right.
Look for our ALOHA JUNCTION B&B sign - at the top of our private road

(our road is BETWEEN the Volcano Store and the Volcano Post Office)

Proceed down OLAPALAPA private road (aka Post Office Rd) and follow the big RED ARROW to the parking area.
Please call us (808) 987-6499 now to let us know you have arrived!
If your cell phone doesn't work up here ~ just pull into the parking and a sensor will let us know you've arrived.
We will come right over and welcome you around.
WIFI info: Network home5, pw: Aloha96785
Remember, breakfast at 8 AM!