A Perfect Volcano Adventure Stay
ALOHA! and welcome to the Aloha Junction Bed and Breakfast!
Minutes from Volcanoes National Park Headquarters.
The main reason for making reservations at the Aloha Junction Bed and Breakfast is because of the close proximity to the Hawaii Volcanoes National Park ~ just a 6-iron shot away as golfers like to say. It also has the advantage of being within walking distance to many nearby restaurants, grocery stores, shops, and the Niaulani Art Center.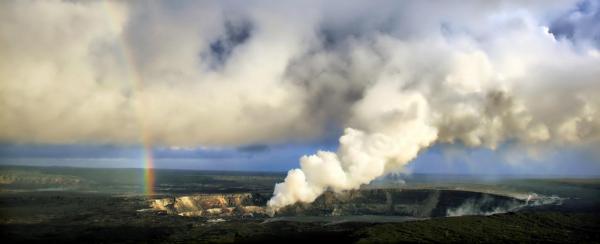 The owners Robert & Susan Hughes are excited about sharing their huge older plantation style house with travelers who might also enjoy stepping back a little bit in time while exploring the many wonders of Madame Pele in one of her latest volcano's, Kilauea. Owners live on the premises but have moved to a smaller dwelling that's separate and behind the B&B. Yes, the property is huge for being in the village, about 1.3 acres which include having a private road, fenced and landscaped and with paved parking so that you will experience a very safe and comfortable little retreat.
Basically, the HVNP is so enormous that it takes about two days to explore, especially if there are any lava activities you want to see. And if you're like us and crazy about hiking there's no question about it the Hawaii Volcanoes National Park will not disappoint you. The Volcano area also offers some of the most diverse plant and animal life on the planet, and several species are endemic to the islands, meaning they ONLY exist here. So having the convenience and comfort of spending a couple of days up in this area is totally worthy of the time and money spent. We recommend you include some time for taking in a sunset view over Haleamaumau Crater. Have a drink at Volcano House and watch the sun setting ~ it'll provide a breathtaking and memorable moment. This "Drive-in" volcano will leave with vivid memories that will last a lifetime!
INSIDE THE B&B:
Free breakfast? Who doesn't like free breakfast? Especially one like ours that offers freshly prepared fruits and hot dishes every morning. One of our most popular is the papaya-banana boat first course, then the macadamia-nut pancake, topped with strawberries and whipped cream 2nd course ~Mmmmm, "ono!"
Each room offers a variety of different bed combinations. The Family Room, for instance, (aka the Pele Suite) has a little kitchenette in the foyer, then a large bedroom a with a king and a queen opening up to an optional 2nd bedroom with also a completely self-contained bedroom with LCD TV, full bathroom and king bed...and private entrance. Every reservation includes FREE parking, WIFI, bottled water, good bags, bathroom toiletries, electric blankets, and Continental breakfast.
Tips for your planning your trip to the Hawaii Volcanoes National Park:
Thurston's Lava Tube Re-opened.
Hawaii National Park, HI has re-opened and ready for business as usual! Yay! However, there is no longer any activity or glowing molten lava at night. Things have settled down much since the May 4th, 2018 eruption!
The Hawai'i Volcanoes National Park is open 24 hours a day every day of the year.
The Kilauea Visitor Center is located on Crater Rim Drive off of Highway 11 between the 28 and 29-mile marker south of Hilo. Aloha Junction is approximately between the 26 and 27-mile marker.
The visitor center is opened daily between 9:00 am and 5:00 pm.
Effective January 1, 2020 the entrance fees to the park will be $30 per vehicle or$25 per motorcycle and $15 per pedestrian or bicyclist.
Here are some other tips for making plans to visit t.o the Big Island.. plus, they'll save you some driving time.
The Volcano area is lush and green for a reason - it rains a good deal here - consider it a welcome relief from hot, dry Kona!. The average rainfall is between 60 -120" (150-300 cm) per year. Rain is frequent at night and can get down to the low 40's and 50's.
The Merrie Monarch festival is held annually starting on Easter Sunday on the Hilo side of the island. Book early, at least 1 year in advance for tickets, car rentals and accommodations hopefully with us!
Some other handy links:
Hawai'I Volcanoes National Park

Recent blog posts