A Perfect Volcano Adventure Stay
A Note from the Innkeepers
Thanks so much to those who've inquired how we're doing with the new volcanic eruptions here on the mystical Big Island...happy to say: things remain calm!
The new flow has been quite dramatic & intensely beautiful to see (perhaps extra dramatic due to the way the news is depicting things; please keep in mind that the percentage of this very large island actually affected is delegated to a very small tip). In reality "Madame Pele" Goddess of the Volcano, has been very active in this portion of lower Puna region for decades & that's where the new flow remains ~ although flowing much swifter than previous ones. The air quality remains clear along with the usual Trade Winds.
Q: Should I change my vacation plans for another time? According to NPS.gov/havo
A: "There is no reason currently for travelers to change or alter their travel plans. There are numerous activities still available on this side of the Big Island. Both public airports remain open"
~ as well as the restaurants, post office, and school up here in the Village. Visitors continue to come to the Aloha Junction B&B.
And while we're as disappointed as you are that the National Park has been temporarily closed. We are all looking forward to the public's new Viewing Platform set up by our county Mayor and officials which will be close to the active lava flows for visitors and locals alike. Upon confirmation of a reservation, we will supply you with other adventures and advice on things to do while the HVNP is closed.
Minutes from Volcanoes National Park
ALOHA! and welcome to the Aloha Junction Bed and Breakfast located minutes from the Volcanoes National Park headquarters and Visitor Center...golfers like to say we just a 6-iron shot from the Park. We are located in Volcano Village, behind the Post Office on a private road in an upgraded 1930's type plantation home. Please come and Relax in our comfortable spacious rooms after a day or two traveling and adventures.
While the majority of guests come to visit the active volcano, others also come to get out of the heat and enjoy the moisture, peacefulness and healing qualities of this tropical high-elevation rainforest.
Upon arrival, guests might feel they made the right decision. Our B&B draws in feelings reminiscent of historic old Hawaiian Heritage.
Our "primo" location offers the ability to take in many tourist attractions inside the Volcanoes National Park as well as take advantage of restaurants and stores within the walking distance from our B&B.
Our property is situated on 1 - 1/3 acres of it all Tsugi cedars, native trees, plants and Giant Hapu'us (or ferns). Our premise is also conveniently located on a private road behind the Post Office, giving a bit of privacy and security. Aloha Junction offers peace of mind ~ and relaxation you crave ~ please "Come and enjoy!" a bit of Paradise with us!!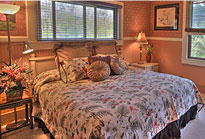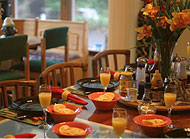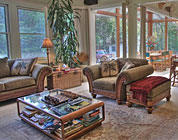 Each of our rooms offers a coffee maker, mini fridge, and microwave. GUests look forward to Robert's delicious Papaya-boats (made with fresh papayas, bananas & lemon juice) with sausage and macadamia-nut breakfasts.
During your stay at Aloha Junction, we recommend you include some time to take in a sunset view over Haleamaumau Crater. The setting provides a breathtaking view of the unbelievable "Drive-in" volcano that leaves vivid memories that last for years.
Good links:
PARK ENTRANCE FEE
ENTRANCE FEES – Effective June 1, 2017
$25.00 per private non-commercial vehicle (capacity 15 or less) – 7 days
$12.00 per pedestrian or bicycle – 7 days
$20.00 per motorcycle – 7 days
$30.00 Hawai'i Tri-park Annual Pass
Vehicle
$25.00 – 7 days
Admits one single, private, non-commercial vehicle and all of its passengers.
Individual
$12.00 – 7 days
Admits one individual when entering by foot or bicycle. Individuals 15 years old and younger are admitted free of charge.
Motorcycle
$20.00 – 7 days
Hawai'I Volcanoes National Park