A Perfect Volcano Adventure Stay
Minutes from Volcanoes National Park
ALOHA! and welcome to the Aloha Junction Bed and Breakfast located minutes from the Volcanoes National Park. Our B&B is located in Volcano Village in an old plantation home reminiscent of the 1930's. Relax in our comfortable spacious rooms after a day of adventure.
Once you see our property, you will realize you made the right choice. Our B&B will make you feel relaxed and comfortable and still giving you that old touch of Hawaii. Our location gives you the ability to take in the many tourist attractions with the Volcano Village area. Our plantation style house gives you the accommodations of spacious rooms and ample area to relax. Take a stroll of our property and you will find 1-1/3 acres filled with Tsugi cedars, native trees, plants and giant ferns. Our premise is gated for your privacy and security. Aloha Junction gives you the peace of mind, the relaxation you need, and says "Come and enjoy!"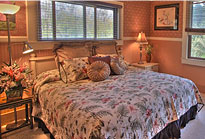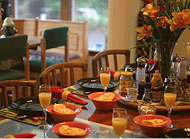 Each of our suites comes with it's own coffee maker, mini fridge, and toaster. Don't miss out on Uncle Robert's famous Papaya-boat and macadamia nut breakfasts. If you are looking for a quiet evening in, you are welcome to our kitchen at night for your own cooked meal.
During your stay at Aloha Junction we recommend you include some time to take in a sunset over the volcanoes. The setting provides a breath taking view of the "Drive-in" volcano that will leave you with a vivid picture that will last for years.
Good Bye Iz